WHY CHOOSE US?
Our Expertise & this is what we love to do.
Transform your online store with DIT Interactive. Our Vogue and Valiant themes, endorsed by BigCommerce, lead the industry in fashion, furniture, jewelry, pets, CBD, and fitness. As the USA's top choice for eCommerce, our themes boast cutting-edge technology, staying current with seamless updates. Choose us for the best BigCommerce themes and elevate your online presence effortlessly.
01

02

03

04

05

06

Helpful Theme Manual

How to use theme manual?
Header & Footer manual
Home Page manual
How to add Most Popular Products manual
Product Card manual
Product Page manual
Recommended Image Dimention manual

07

08
CHECK OUT OUR MOST RECENT THEMES
We've created cool stuff, check a few!
OUR SERVICES
We digital experience via unique services

Individualized Theme Design
DIT Interactive is a BigCommerce authorised partner. Our team of experienced designers with years of experience building themes for BigCommerce websites provides the custom theme design service. We provide a broad range of services, such as logo design, responsive website design, domain registration, social media management, and so on. Our purpose is to offer high-quality goods at reasonable costs.

Custom Development
This is where we take your concept and make it a reality. We've worked with some incredible folks who had fantastic ideas that they wanted to bring to reality. We were able to assist them in making their goal a reality. We want to ensure that our clients are satisfied with the work we provide. Please email us at hello@ditinteractive.com if you would want us to work on something for you.

Plugin customisation
Adding features to plugins is a wonderful way to differentiate them. There are several methods to accomplish this, including adding new pages, updating and adding new features.
BY DIT INTERACTIVE
Need help with changing theme code?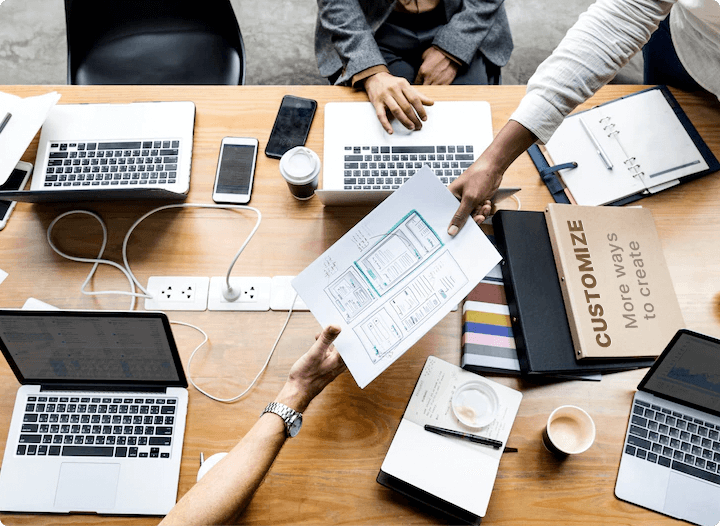 DIT Interactive specialists are acquainted with theme scripts much better than anybody else. Our customization services will make the theme work the way you want!
Add / change the theme features
Build a custom theme or plugin
Get result as per your expectation
Stay within your budget range
REQUEST A QUOTE

Hire Theme Design & Developers Team
Create your own development team now
Everything starts with a 'Hello'!! With ZERO upfront investment, we are committed to provide a solid foundation for your bussiness idea. You'll be amazed by working with our experts. If not, the first 7 days are on us.